Weddings
If you are looking for the ideal location for your wedding, Te Hihi Estate is the perfect venue for your once-in-a-lifetime celebration. With the entire 92 acres at your fingertips, we can help craft a special experience that is tailor-made to your dreams - ensuring that your wedding honours your family, friends and the story of love that you are creating.

The extensive Te Hihi Estate grounds offer a range of venues for the wedding ceremony, providing space for up to 100 guests to celebrate your special day in an exquisite setting. Photographers delight in the natural beauty of our estate, with stunning backdrops over the manicured gardens and beside your own private lake. Breathtakingly beautiful, and suitable for both the traditional tastes or a more modern aesthetic.

From small, intimate wedding ceremonies through to sit-down reception celebrations - Te Hihi Estate can cater for all the needs and dreams for your special day. Contact us to begin crafting your wedding experience at Te Hihi Estate.
Corporate Functions
Whether you're needing an executive getaway for a strategic retreat, a professional venue for an organisational conference, or a large premium locale to launch your latest offering to up to 100 guests - Te Hihi Estate is the solution for your corporate function needs.

Exuding professionalism and success, our estate has an excellent range of facilities and spaces for large gatherings or small focused break-out groups. All of your requirements can be arranged and managed onsite, with optional catering and accommodation add-ons available for longer stays.

Te Hihi Estate has been strategically designed to provide for any corporate technological requirements. High-speed Wifi is available throughout the estate, and our integrated premium stereo system extends throughout the interior and exterior spaces, allowing for easy communication to large groups - and high quality sound quality to support your event.

Our extensive grounds provide a range of additional experiences for our corporate guests, including use of the 9 hole golf course and kayaking on the private lake. We can arrange team-building programs on site, and have a strong network of motivational speakers and corporate professionals who can be contacted to help.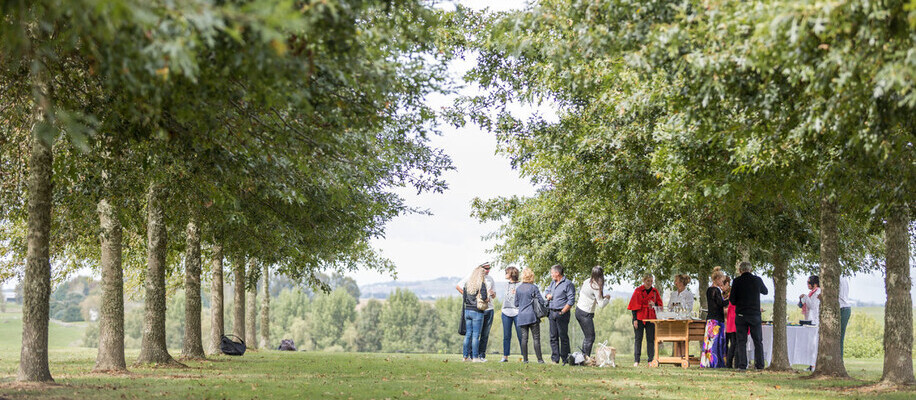 Special Occasions
Te Hihi Estate is the pinnacle of luxury accommodation in New Zealand, offering an exclusive experience that exceeds even the most discerning guests' expectations. Providing deluxe comfort for up to 14 guests, the exclusive use of our villa suits both a premium family getaway or a special occasion with a collection of friends.
With six beautifully designed bedrooms and full use of all of our facilities (including the golf course, private lake and tennis court), your stay at Te Hihi Estate can be a rejuvenating getaway or an active adventure exploring all that is on offer.

Relax by the swimming pool, play a round of golf, soak in the idyllic view from your bedroom's private balcony, or create family memories kayaking from your own private jetty - the choice is yours. Premium accommodation that will leave you longing to return - Te Hihi Estate is the ultimate in creating memories and delivering excellence.
Te Hihi Estate is a venue that can be tailored to a multitude of opportunities – product launches, photo-shoot, milestone birthday celebrations or simply a private party.